Whilst waiting for my class to start, I finger the pages of an old Thailand guidebook lying earlier at the reception desk. Otherwise, I would have picked my nose and pulled my brains out.

As I leaf through the last chapters, the pages on Ko Phi Phi albeit brown with age and written in an alien language (read: Korean), the photos, almost sepia, still has the pull to take me to its pages, check the limestone karst and plant myself in one scene of Alex Garland's The Beach (1996) which has a film (2000) adaptation of the same title with Leonardo de Caprio on the lead. In no time, I find myself googling and oogling on photos of this "Darling of the Andaman Coast" with it's glassy, clear waters and clear, blue skies.
But I was disheartened to discover that the island, now on it's post-tsunami splendor (a volunteer organization working in the island was nominated in the Time Magazine Heroes of Asia award for its effort to rehabilitate the island after the deadly tsunami of December 2004 wiped out an estimated 4,000 people), is beyond my budget already. Buildings are now made, in every way possible, tsunami-resistant, therefore pricier than the huts and bungalows that used to dot its coastline.
An article from lonely planet dot com reads:
'Ko Phi Phi is changing, there has been a drop in the backpacker population and an increase in the suitcase brigade, ' Hood said. 'Backpackers can't afford to stay here anymore.'





It's true. Although Ko Phi Phi retains a mellow backpacker vibe, cheap bungalows are few and far between, and those that exist seem overpriced for the cramped, dark and dank environs you get. The outlook is only slightly less dismal in the midrange and top-end bracket – expect to pay nearly double what you would on the mainland, for half the amenities and swankness..
Meanwhile, I met a couchsurfer from Canada this week. Over bottles of Red Horse, we talked for hours on end about traveling around Thailand and waxed poetic about how I love Chaing Mai--its food and weather while he, the beaches and islands down south. The downside though: he doesn't feel like going back because he wants to freeze the good memories ten years ago when it was still off-the-beaten.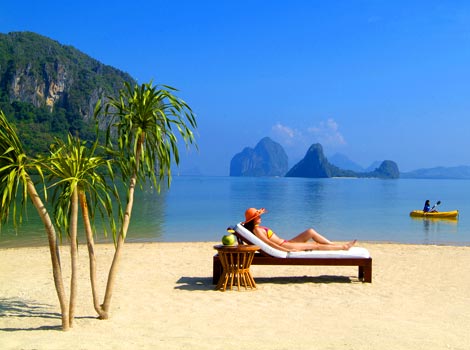 That surely light up the yellow bulb somewhere. I am definitely hitting Palawan before hedonism will claim the island as its own. With the Php799.00 one-way Manila-Busuanga airfare, Palawan is now in my bluelist. Two-months paid holiday in the Philippines "last frontier" is, I guess, pretty decent. I'm pulling your leg but I'll be in Palawan summer next year!