Lazi Convent has the bragging rights as the biggest convent in Asia.
If you've visited Siquijor, it's impossible not to like its laid-back charm. It's mystique is the kind that grows on you. It's my nth time to visit the island but its spell hasn't worn off on me yet.
Twice a year, I visit Siquijor as part of my job as Outdoors Education Coordinator. In between, I make a quick trip there to recharge myself or simply put it, to wax poetic.
What I'm about to share is not something every guidebook has. It's a local information that I have gathered all these years in my travels back and forth to the
island of fire
--as Siquijor is aptly called. What this is? We will soon find out.
To pin down one of Siquijor's best kept secret is like to single out a secret ingredient. It's next to impossible. So what I am about to share here is my shortlist of the best of the island. To keep things in a hush hush (well, sort of), I won't be putting here some dead giveaway clues. Just riddles of some sort and a little tip here and there.Your guidebook as a reference will come in handy here. So, let's get started!
Where to Stay (on a budget)?
master's bed (extra 2 are in the attic)
If you've a guidebook, chances are, you've read about this charming little resort which has been gaining popularity through word of mouth alone.
I have stayed here a couple of times and each visit is as good (or even better) as the last. I have made friends already with the resort's trusted hand. Her name is Flor. Days before my visit, I communicated with the owner, Mr. Daman Harada, that I'll be coming. I've met Mr. and Mrs. Harada during my previous visit there. In that e-mail, I specifically booked the executive room
(tip: this is the bestseller! you will find out why)
, the one with the outdoor bathtub and an attic and tried to ask for a discount (
since I've stayed with a large group at the resort before)
, if possible. In true Japanese fashion, I got a personal reply in no time with the signature warmth of the owner
(plus the discount)
.
getting into the swing of things. siquijor style.
The resort has a restaurant and much of the dining space is on a veranda that empties into the 2-kilometer white sandy coastline
(for the hopeless romantic)
. Sunset dinner is more than perfect here.
To be different, I ordered black spaghetti
(my first time!)
and freshly-picked sea urchins
(straight from the shores in front. tell the staff before sunset so they can pre-order from the locals)
and a glass of white wine to cleanse my palate. Did I say that the food tasted good? (
It's a bit pricey though for provincial standards. But dang! It was good!)
You can also arrange a Boro-Boro tour
(find out what this is!)
and a Faith Healer tour
(mambabarang or sorcerer is a misnomer).
This is Siquijor for the budget traveler who doesn't want to sacrifice comfort, style, good food and a little bit of pampering.
From last year's edition of Lonely Planet:
P1000-1400, P1400-1700, extra person P200; a new place on Siquijor's north coast, has been an instant success through word of mouth alone. Run by an irrepressibly cheerful Japanese couple who have poured their personalities into their business, this is no cookie-cutter package operation, Daman and Marie Harada have even named three of their cottages after their children, which is just one of the reasons this resort feels so homey. But ultimately it's the clever. Japanese-inspired design that makes it all hang together so well. Mezzanine levels, furo baths, wooden ceiling fans and self contained kitchenettes are so well arranged you'll feel like reproducing it at home. The cottages are genuinely excellent value, especially for those travelling in a group or staying long term. Needless to say, there's an on-site dive centre. Other pluses: it's accessible to people in wheelchairs, and there's free wi-fi. A habal-habal from Siquijor town to here will cost P30 and take 10minutes.
It's interesting to note that 10
%
of your hotel bill supports the scholarship program of the resort.

The laid back island life, wi-fi, Balinese cottages, two kilometer white beach, the 5 star service provided by the staff and the Japanese couple's warm hospitality made me come back for more.

This is shameless plugging but what can you expect from a satisfied guest?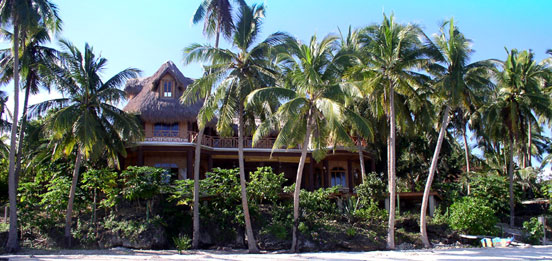 from the resort's website
note: if you are cash-strapped (or the downright stingy type), you may decline the offer for a welcome drink since you will be billed for it later. But what the heck is Php60.00? simply peanuts for you, no?
Next: the black virgin who drags a chain and walks in the streets of Siquijor at night