I've met a lot of people with the classic story of coming to Dumaguete and falling in love with
her
. Who wouldn't? Small city, charming,
she with that
youthful energy and vibrant cultural scene. Expats who have come to love and live in Duma would say
every place in downtown is five minutes away
. But there is one disturbing comment made by my friend from Spain who came to visit:
It's a sad reality. There are a lot of white guys here. The old ones in particular. Their Filipina girlfriends could pass as their grandchildren.
Oh, yes. They're all over the place. Perhaps these oldies
really
fell in love with city and
her
young ladies. Perhaps, not at all. I don't know.
Anyway, going back to the review on Dumaguete's budget friendly hotels:
Honeycomb Tourist Inn
Rizal Blvd. corner V. Locsin Street, Dumaguete City
single 800.00/double-twin bed 1,000.00/double deluxe-twin or queen bed 1,200.00; family 1,500.00
|
telephone nos: (O

35) 225.1181; (0

35) 422.3184; t

elefax (035) 225.1182
Right in the the middle of Rizal Boulevard drag, in the main house where a pub frequented by those western oldies, is a tourist inn called Honeycomb. It appears to be an American colonial house-turned-into-a-quaint inn. I've stayed here twice before during one my business-related trips with an events company. I couldn't tell the distinction between my previous stay. What I always remember was it was homey and the staff were friendly.
the room where we stayed for 2 nights
W and I got the room with a window that opens to the boulevard. Except for the forced toilet and bath located at the room's end, the room was homey. The bedsheets smelled fresh, the AC, CATVand the shower worked. By the way, the tariff includes breakfast served in the pub. A sports bar is located behind the two-storey inn. They accept credit cards and definitely located in the heart of the boulevard. Dining options include Shakey's and Cafe Filomena to its right and Mamia's, Chin Loong Chinese Restaurant and Sans Rival at the opposite block. And right next door is actually Why Not!--famous for its Suisse and Austrian cuisine and deli.
Two blocks away is what I considered as the queen of hotels dotting the boulevard. It's not really as grand as it appears to be. It's more of a charming vacation house in the province and one with a character:
"...this hotel stand still as she greets the morning sunshine. She is one of the few who gets to feel the early morning gentle breeze brought about by the serenity of the sea in front of her."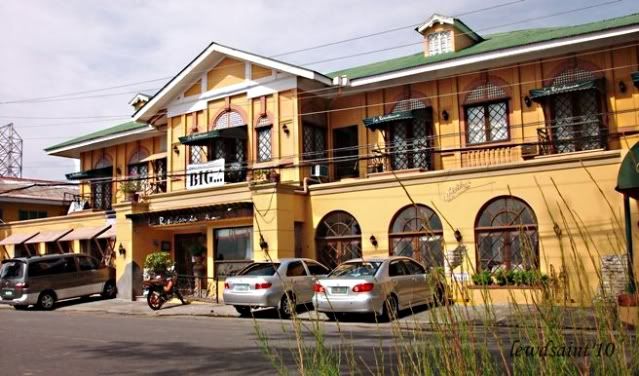 La Residencia Almar
Rizal Boulevard, Dumaguete City
standard-2 single beds 1,325.00/deluxe 1,455.00/executive suite 1,985.00/family 2,250.00
|
telephone nos:

(035) 225-7100;

(035) 422-0888 to 89;

Fax:(035) 422-8449
Being the pioneer hotel in Dumaguete, La Residencia Al Mar still keeps the lead. It's a hotel worthy of a five-star for it's quaintness and two thumbs-up for it's design aesthetics with a Spanish flare. The room where we stayed (when was that? four full moons ago?) was a bit small, but the terrace that opens to the boulevard makes up for it. The atmosphere is probably that of a villa. The only mismatch is the road right in the hotel's doorstep (well, not literally. go figure).
If you care much about back stories, the hotel used to be a private residence of a governor.
The coffee shop serves good coffee, I heard. I'm not really a coffee person. For sushi and wasabi overload, there used to be a Japanese restaurant in the ground floor but it ceased operations.
The hotel is undergoing major face-lifting at its ground floor but it's business as usual. With the renovations almost done, there are now plenty of al fresco space right by the roadside for an afternoon tea, people watch or simply appreciate the art of doing nothing. The last time I checked, the hotel's homegrown restaurant Don Atilano was at the tail-end of renovation and counting the days until it opens to the public again.
Other dining (and cafe) choices are: Cafe Antonio at the Spanish Heritage right beside the hotel. Next block are Coco Amigo for Mexican (and more cuisine) and Blue Monkey Grill for the cheapest San Miguel Beer in town! PHP23.00!