I dreamt of Ubud, Bali many times. The smell of rice plantations rousing after a brief rain on a summer afternoon. The early morning walk along rice paddies--seeing the friendly locals just starting off their day with an offering to the gods wrapped in a leaf and adorned with delicate petal blooms and done with such intricacy and passion.


truly the "Island of the Gods!" reason #1: the magnificent temples
The Bali I come to know has the restraint that is inviting but at the same time wrapped in a mist. It's a mystique waiting to be cracked. It's an island where religion is deeply rooted and marries beautifully in the way of life of the people, where faith is the fabric that holds these people together.
resort in the middle of rice plantations
elaborate religious rituals of the Balinese people (replete with the wearing of traditional clothes)
Bali maintains such a disarming balance--quiet in Ubud, play hard and party harder in Kuta until the sun comes up! In the middle of this all is the elaborate way of life in the island. A life that revolves around Hinduism with a distinctly Indonesian flavor.
My seasoned traveler friends who have been to Bali suggested I spend more time in Ubud for the laid back atmosphere, vibrant (notwithstanding exploding) art scene and quiet beauty then head out to Kuta Beach for the ultimate adventure which Bali is so known for--surfing!
Inside my head, Bali promises to be a mind blowing experience! Nothing was gonna burst that bubble except budget and yes, more budget! The third world paycheck I religiously stored in my piggy bank called Banco De Oro was not ripe yet for picking. I still withdrew it and left just enough to tide the account until the next payday without the gruesome deductions (Php300.00/month)!
my awesome legroom!
The seat sale season at Airasia.com offering zero fares was a deal too hard to ignore. The novel Eat, Pray, Love didn't help either. So, I scored a round-trip Singapore-Bali at no cost at all! I love you Airasia Indonesia!
With the first order of the journey: to secure the plane tickets and consequently to find a nice Balinese cottage with a cheap hotel price tag done, it's about time I did my homework. And if you asked me how I fared, I had a blast with flying colors the color of fireworks... except!


Except yes, the money changer scam at Legian!
(I didn't read about this in online travel forum). The prick (with pores as big as his nostrils) with the quick hands of a magician stole a big amount from me. The
modus
is like this: with a signage "authorized money changer" hanging outside, they post the highest exchange rates in the area (which should have set off my alarms already) outside a shop (it was a shoe shop). You get inside the shop, approach the counter and have USD100 dollars changed. One guy mans the counter while another guy distracts you by carrying a conversation with you. The guy at the counter counts the rupiah in small paper bill denominations of 20,0000 (instead of the usual 50,000 or 100,000) bills right in front you and group these bills into bundles of four. And because he doesn't have coins for the spare, he will ask you one instead so he can give you a 100,000 rupiah bill. While you search your pocket or wallet for the spare coin, his quick hands then secures one bundle under his drawer.
I discovered the missing 200,000 (about Php1,000.00) when I was about to pay in the mall. I'm sharing here another bad experience by a Canadian couple: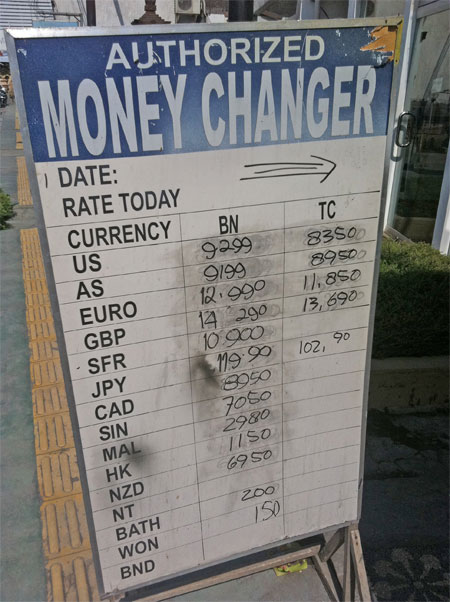 We're in Bali (our first time), where there is a new for us, probably old for most kind of slight of hand that we have watched with some outrage, some amusement. They play slight of hand when you're exchanging money.
We have brought a certain amount of Canadian currency with us to use in the different countries that we visit. Mostly we exchange money at banks, which often give the best rates. Here in Bali however, there are a plethora of "official" money changers, all of whom give different rates. So the usual way to do things is to walk around until you find the best rate and go in and change some money.
Which is what we did. There were a couple of places that showed a rate several hundred Rupiah more than the best that we had seen. The usual exchange was 1 CAD = 8600 Rp, maybe 8700 Rp, and this guy was advertising 1CAD = 9105 Rp. Well, the choice seemed obvious to us, so we set out to exchange 100$CAD.
Of course, $100 CAD means 910 500 Rp, which is a hefty sum. Usually you get your money in 100 000 and 50 000 bills, but this guy started to count out 20 000 bills. We questioned him on that, but he said that was all he had. But we figured, it's all coin of the realm, right? Smaller bills work just as well, and it was a good exchange rate. So we watched him count, and we counted, and he counted again, and we left with our money.
Later that night after dinner, we counted our money again and discovered that we were missing about 200 000 Rupiah. We went through all of our pockets and it wasn't there. I was convinced that I was somehow at fault (I was carrying the money, after all), but Nathan rolled his eyes and questioned the idea that I might be able to lose exactly 200 000Rp. He said that we had been had.
But the couple had a happy ending. Read the whole story and more experiences at
thorn tree travel forum
of lonelyplanet.com.
....................... 000000000000 .....................
Here are my suggestions,
8
of them, on
things to do in Bali
:
one|

EAT|

Nasi Goreng. One of the best ways to immerse in other cultures is through food. In Indonesia, there's no better way to do it than by having a plate of nasi goreng-- nailed at second spot as the World's 50 Most Delicious Foods by CNN. Nasi goreng, stir-fried rice with other ingredients and accompanied with egg and chicken or prawn, is Indonesia's national dish. From the sidestreet of Sanur (where I had my first taste) to lavish banquets in posh hotels, Nasi Goreng knows no social barriers.
nasi goreng 15,000.00 rupiah or 70.00 pesos
two|

SHOP|

Art Galleries. Bring Bali with you through original paintings and other artworks made by its roughly 30,000 people who decided to become full time artists! It's not just an island of the gods, it's also an island of the creative spirits!
three|

SHOP AND EAT|

Ubud. Verdant landscape with fog filtered sunlight in the morning and rows and rows of shops selling everything under the sun. From branded clothing to unique souvenirs to sumptuous foods, Ubud is a shopper's and foodie's heaven! Must try restaurant is Dirty Duck.
four|

VISIT|

Sacred Monkey Forest. Located at the fringes of Ubud, the 27 acre-monkey forest is home to some 300 crab-eating macaque. Court danger by bringing something like a piece of banana that will attract the monkeys. They could just jump from behind and grab your hair or worse bite you. Just saying :) *entrance: 10,000 rupiah or 50 pesos
five|

DIP|

Holy Spring of Tampak Siring. Pura Tirta Empul dates back to 926 AD. For thousand of years, the Balinese people have been using the spring for good health, prosperity and religious ceremonies. Regular purification ceremonies are conducted in the spring.
six|

SEE|

Floating Temple at Bedugul. Surrounded by mountains (elevation: 700m asl) and sitting on the lake shore of Bratan, the temple has the illusion that it's floating. After Tanah Lot, Lake Bratan temple is one of the iconic symbols of Bali. Along the way, there are several strawberry plantations and local market where you can get farm produce at a good price. *entrance is 5,000 rupiah or 25 pesos
seven|

SEE AND SWIM|

Tanah Lot. Pura Tanah Lot or Tanah Lot Temple is the iconic symbol of Bali. The temple which was built in the 15th century sits on an offshore rock in the coast of West Bali. In the 1980s, the rock face started to crumble. Restoration activities saved the temple. What you actually see now is a cleverly designed artificial rock replacing about a quarter of the old chipped rock.
eight|

SWIM, SURF AND PARTY!|

Kuta Beach. For chill-out (perhaps wild) nights, Kuta is the place to be starting at sundown. Feed the tourist and the social butterfly in you with its many bars, restaurants, hotels and hostels of every kind. During daytime after you have shaken off the hangover, surfing is the sport to do! Several surfing schools are strewn all over the long strip of Kuta Beach! If you are on a tight budget, Poppies is for you! You can also head out to Legian Beach, another popular area.
To say that Bali is an experience is an understatement. I can't wait to visit the island again and stay longer. By that time, with my kindred spirits in Ubud.